You are currently browsing the Suzuki category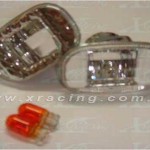 Click image to enlarge
Part Number: Swift89-03 CI01
We have received a lot of enquiries about our custom fitted Crystal Side Indicators onto the Suzuki Swift from our X-Customs page.
Therefore due to high demand we have decided to offer this to all customers, regardless you are in Sydney or Interstate.
Buyers have to choose from below in order to get these Crystal Side Indicators for the Swift.
Option 1:
1. Purchase the indicators alone
The indicators will come in a pair with orange bulb included (as shown in the display picture)
2. Self D.I.Y. (Do It Yourself) (no responsibilities paid for any mistakes/damages caused by the owner, so buyers take own risk)
Refer X-Customs 1 on our X-Customs page for more information about how to D.I.Y.
OR
Option 2:
1. Buyers have to send the following part from their Swift to us. This part must be sent in a pair, and the buyer should test out the part with a bulb first to make sure its working before sending the part to us. Below is a picture of the part that needs to be sent to us. Please make sure the part is wrapped with heaps of bubblewrap and cardboard to avoid any damages during transit. X Racing will not be responisible if we receive the part broken.
Please ensure when you send us the plug, it is clean and tidy.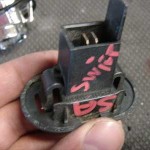 Click image to enlarge
It is the buyers responsibility to send via Registered Post so that the part doesnt go missing during transit, we will not pay any responsibilities for lost parts.
2. Once we receive the part we will custom fit the crystal indicators and send back using Registered Post.
The whole process should take around 1 week
Once you receive the new indicator, its direct/straight bolt back on with no modification, dont forget to plug in the back.
Payment must be received before sending the "part" to us. Once payment is received we will confirm with you the correct shipping address.
Suzuki Swift 4Dr Sedan 1989-2003 Crystal Side Indicators - CLICK FOR MORE INFO