Nissan Dual Port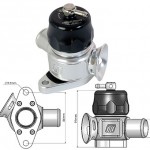 Click image to enlarge
Part Numbers:
BLACK: TS-0205-1026
Turbosmart RRP$459.95
DESCRIPTION: Four BOVs in one. The Dual Port can be configured as a Supersonic, Megasonic, Plumb Back or Dual Port! Features sequential ports for quiet operation on mild boost and full performance at full boost.
APPLICATION: Suits Nissan Skyline GTS-T and GT-R, R32, R33, R34 and R35 (excluding R32 GTS-t).
SUPPLIED WITH: Blanking Plug, Gasket.
More information available at www.turbosmart.com.au
X Racing Motorsport is an AUTHORISED Turbosmart Dealer
You might also be interested in